Kontakt
Antonio Torres
Friedenstraße 41
75417 Mühlacker
Telefon:07041/44230
Telefax:07041/819717
Mobil:01772116000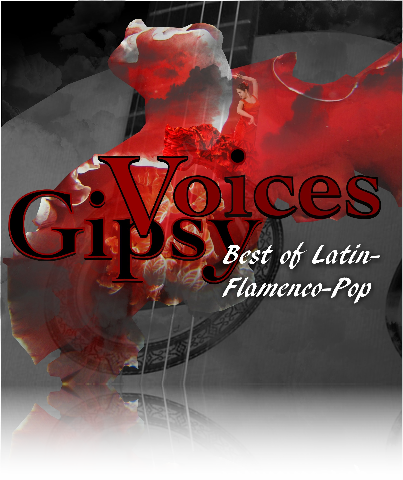 Latin, Flamenco - Pop

Gipsy Voices

of Raum Mühlacker/Pforzheim

is one of the most sought for

Latin-Flamenco-Pop-Bands

coming up in Germany. The Band found in 1994 by Antonio and Luis Torres brothers has already manifested ist proficiency through numerous events.

Be it by Mercedes Benz or Porche, in Düsseldorf Rhein-Terassen, or at the balls for German Business Promotion in Frankfurt, or at the Summer Concerts in Saarbrüker Castle, the musicians and their fiery dancers, create hot rhythms and an electrifying show.

To the Gallerie

Tour programme

They have music in their blood and fire in their arteries- when they get on the platform, you are faced with Spanish Temperament that carries you through a festive mood.
The group
of Raum Mühlacker/Pforzheim is, in the meantime one of the most sought for Gypsy-Bands coming up in Germany. The Band found in 1994 by Antonio and Luis Torres brothers has already manifested ist proficiency by performing at numerous events.
Be it by Mercedes Benz or Porche, in Düsseldorf Rhein-Terassen, or at the balls for German Business Promotion in Frankfurt, or at the Summer Concerts in Saarbrüker Castle, the musicians and their fiery dancers, create hot rhythms and an electrifying show taking you along.
It is with the most thrilling mixture of Flamenco, Pop, Jazz and Latin that they always get their audience off their seats and on to their feet. Here, you are not thrown into a party mood only by the elevaing music of Gipsy Kings Cover Version in their programme such as Volare or Bamboleo but also with the numerous pieces from Antonio Torres's Feder, which is heard in between the rich musical repertoires of the group.
Although our priority is in Party-Music, nonetheless I like to perform some of my own written songs to touch the thoughts, says the band leader. Thus the charismatic musician in his song Dios ayuadame (God help me), illuminates the example of the one misused by drugs. In the instrumental piece Illusion, exists an argument, the focused on a man and a woman, and here, two acoustic guitars take the parts of the love pair. Also worthy of observation is the title Elena, which finds itself glowing in the Erstlings-CD of the Gipsy Voices. Torres presented it to the daughter of the king of Spain.
In the group, next to the brothers Antonio (guitar,solo) and Luis Torres (solo) are heard
Chico Vinceiro (guitar, vocals),
Razmik Abrahamian (keyboard),
Jürgen Hommer (percussion) and
Marcus Grimont (bass -guitar)
When wished for, the dynamic flamenco dancers join the group, adding to the vitality of the show, boosting up the moods. By the Spanish ( Dance of Passion), the dancers spray
fire and spirit to the crowd.